Ronnie James Dio's Hologram Is Going on Tour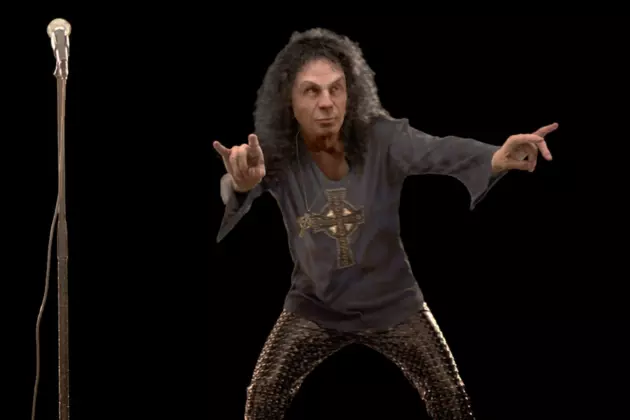 Wendy Dio can't bring the dead back to life, but she's certainly coming close, as far as fans are concerned. After recently defending her decision to pursue hologram technology, it looks like her late husband, Ronnie James Dio, will sorta set out on a world tour this fall.
Dio Returns kicks off on Nov. 30 in Helsinki and runs through the end of the year. You can see the initial list of tour dates below. Dio Disciples — a band that includes guitarist Craig Goldy, bassist Bjorn Englen, drummer Simon Wright and keyboardist Scott Warren — will back Dio's hologram at the shows.
The virtual Dio debuted at last year's Wacken Open Air Festival in Germany, joining Dio Disciples onstage after a year of preparations. Fans were treated to Dio's recorded voice along with live performance by his former collaborators.
The Dio estate has worked with the company Eyellusion to create a hologram that can perform many different songs from Dio's catalog that will change from show to show. "A lot of people don't like the idea and some people do," Wendy Dio told Ultimate Classic Rock earlier this year. "It's done with love for the fans. It's for those who would love to see him on the stage again with his bandmates, and for those who never got the chance to see him."
Dio says she's far from the "cash cow" some have called her, saying the tour is actually quite expensive, but she believes her husband would have approved. "We always tried to make a hologram, Ronnie and I," she says. "In 1986, those who saw the Sacred Heart tour saw that we did a rear projection of Ronnie's head in a crystal ball, talking. Ronnie was always very very fascinated by Disney World and all the holograms that were in there. So I think he'd give his blessing to this. He was also an innovator in music, so why not an innovator in technology?"
The band is planning between 80 and 100 shows with the hologram, according to Rolling Stone. "Ronnie was and still is so revered by his fans, which really are his extended family, and they, too, had a special relationship with the man himself which entitles them to a voice," Goldy said. "Like all families, not everyone agrees, but this was a gift to the fans that was created in the very same spirit in which Ronnie gave throughout his whole career and created these amazing stage shows that rivaled Madonna and Michael Jackson."
Dio Returns 2017 Tour
Nov. 30 — Helsinki, Finland — The Circus
Dec. 3 — Stockholm, Sweden — Fryshuset
Dec. 4 — Oslo, Norway — Rockefeller Music Hall
Dec. 6 — Warsaw, Poland — Progresja
Dec. 13 — Barcelona, Spain — Bikini
Dec. 15 — Santander, Spain — Escenario Santander
Dec. 17 — Bucharest, Romania — Arelene Romane
Dec. 20 — Antwerp, Belgium — Trix
Dec. 21 – Tilburg, Netherlands — 013
Dio Albums Ranked Worst to Best
Source:
Ronnie James Dio's Hologram Is Going on Tour